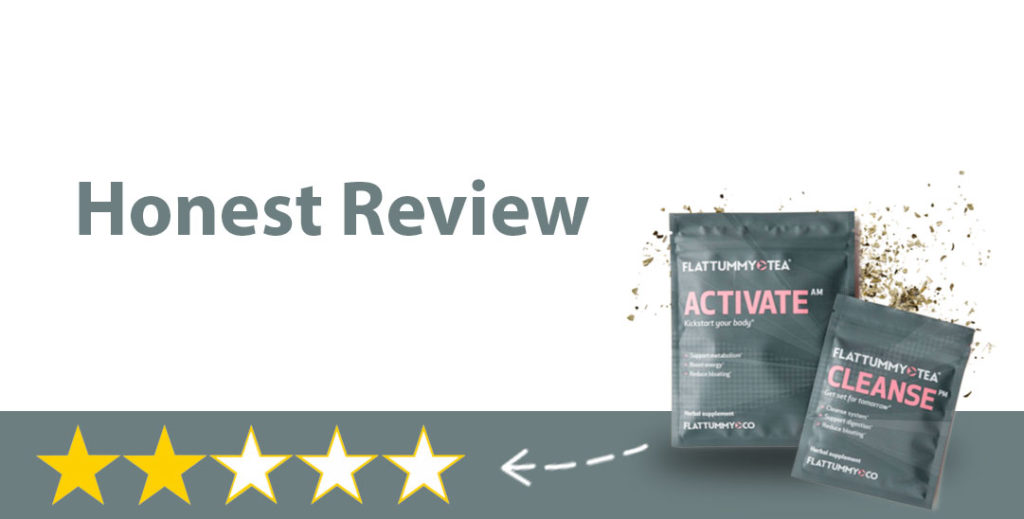 Flat Tummy Tea Review
Flat Tummy Tea Review - My Results and Why I Didn't Love It.
Do you feel tired and sluggish most of the time? Has your get up and go get up and left? There's a product for that – it's called Flat Tummy Tea, and it's an herbal detox that claims to kick your blues away and get your mojo back – and get a flat tummy in the process.
My story
Hi, I'm Kimberley. Reaching my 35th birthday a couple of months ago was a wake-up call for me. It caused me to pause and analyze what I had become. The mid 30's is meant to be the prime of your life, right? Well, I was feeling about twice my age. 🙁
I was constantly tired, sluggish and just exhausted. I know the extra pounds around my hips and waist weren't helping, but I shouldn't have been that exhausted all of the time. I needed to do something.
How I Discovered Flat Tummy Tea
I came across Flat Tummy Tea as the result of a Google search. I was immediately attracted to the simplicity of the product and the massive number of positive reviews that it was getting. I also really liked the tone of their message. It was as if they were talking on my wavelength, with their promise to "help babes get back on track by kicking bloat's ass."
What is Flat Tummy Tea?
Flat Tummy Tea is a herbal detox program out of Australia. It comes as a two-step herbal detox program. It is sold as either a two- or four-week pack. The two steps include separate teas for morning and night. The steps are as follows:
This herbal blend is made from natural herbal ingredients designed to help you to increase your metabolism, boost your energy and get your digestion set for the day.
One cup of this herbal detox should be consumed every morning with breakfast. You steep the loose-leaf blend in hot water for about five minutes. You them remove your tea strainer and consume the blend.
The following ingredients are included in this blend:
The second part of the program is the cleanse blend which detoxifies the intestinal tract and reduces water weight. This is the step that is meant to keep your stomach flat. The cleanse should be consumed every other night for the first week, and then every three nights after that.
The cleanse includes the following extra ingredients:
Who is This Product For?
Flat Tummy Tea is designed for women in their twenties and thirties who need to regain their energy, get rid of bloating and sluggishness and lose tummy fat.
Is it Effective?
The Flat Tummy people make a lot of claims relating to the beneficial aspects of their ingredient's on their website. However, there is very little scientific evidence to corroborate these claims. As a result, there is very little real evidence to support the product's claims to be able to cleanse your body.
There are some ingredients included in the detox that will have a laxative effect, leading to the loss of water weight. These include senna leaves, fennel and peppermint. However, any loss of stomach weight will come back on as soon as you start taking fluids back into your body.
There is a danger inherent in the laxative quality of this product that it could lead to dehydration. For this reason, you should drink plenty of water while using the product, which is going to immediately negate any water loss anyway!
What About Refunds?
Unlike with most of these types of products, the Flat Tummy Tea people do not offer any type of refund policy on their product. That is an immediate Red Flag. The price is very high for a tea and the fact that you do not get to try or buy is not good enough.
A Better Alternative
Unfortunately, I went ahead and ordered Flat Tummy Tea before I'd done the research on its ingredients and against my reservations about the no refund policy. Not only did it not work for me, but the taste was pretty terrible . . .
Honestly, I could only stomach it for three days!
Amazingly, I wasn't put off detoxes by this less than satisfying experience.
And I am seriously glad for that!
You see, a week after giving up on Flat Tummy tea, I came across . . .
Red Tea Detox
Red Tea Detox is a detoxification program created by Liz Swann Miller that is promoted as a breakthrough method of fat burning. it is a comprehensive three-part program that is divided into exercise, diet and mindset. Each of these sections has its own guide booklet.
Bonuses
This program comes with four bonuses:
The Red Tea Detox comes with a 60-day money back guarantee.
The secret to the Red Tea Detox program's success is that it includes 5 key ingredients. Unlike in the case of Flat Tummy Tea, these have been scientifically verified.
UPDATE:

My Results After Using Red Tea Detox
So, I went ahead and ordered Red Tea Detox – and, boy, am I glad I did!
After just three weeks on the Red Tea Detox, I have lost 11 pounds – now, I'm back in my skinny pants! 🙂
Not only that, but I've finally kicked the lethargy out of my life. I've now got more energy than when I was in my twenties!
And, to top it all off, the Red Tea Detox actually tastes great!
Want more proof – just check out these before and after pics . .
Can you believe that those results are from just 3 weeks on the Red Tea Detox?
They've made me a believer – how about you?
My journey began with the Flat Tummy Tea and ended with Red Tea Detox. One was a disappointment while the other was a revelation. And now you can learn from my experiences by jumping straight to the Red Tea Detox – it's a decision you won't regret. 😉
Go here to order your Red Tea Detox – you've got nothing to lose but your lethargy – and your spare tire!
I Just Want to Thanks Swann Miller...Your Product Helped me Alot.
Summary
Reviewer
Review Date
Reviewed Item
Author Rating